Bob & Cozette Thomas
USA Director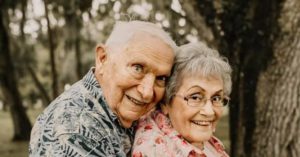 Bob married his high school sweetheart, Cozette, in 1951. For the next twenty years, Bob served in the US Navy as an aviator and meteorologist. Cozette rededicated her life to Jesus in 1963 and Bob accepted Christ in 1964. Since that time, they have unreservedly served the Lord as a team. Bob and Cozette have five grown children and reside in Arcadia, Florida.
During their Naval career, Bob and Cozette spent three years in Japan, during which time they received the call of God into full-time ministry and missionary service. During those three years (1965-68), they were missionaries at "government expense", working with other missionaries, service personnel, and starting a servicemen's church and home (which is still active today).
Following retirement from the Navy in 1971, the Thomas family moved to Japan as missionaries and served there until 1974. The next six years were invested in Christian education in Maryland and in Florida. Bob was the principal of two different ACE schools and helped to start several others. From 1980-91, Bob was the Academic Dean and Vice-president of Liberty Bible College in Pensacola, FL. Bob and Cozette then returned to Japan for another year of missionary service. Their work in Japan was completed with the establishment of a new church work in Fuji City.
Since returning from Japan in 1992, the Thomases have served with ASEA as USA Director and Assistant International Director. Bob and Cozette provide the ministry with valuable experience, wisdom, encouragement and counsel. Bob also maintains the necessary liaison with the various governmental agencies for ASEA.
Cozette has an AA and a BA in Biblical Studies. Bob has a BS in Meteorology, Master's Degrees in Religious Education and in Counseling and Human Development, a Religious Education Doctorate and a Ph.D. in Nouthetic Counseling.
You can contact the Thomases at:
rfcjthomas@gmail.com
Support the Thomas Family