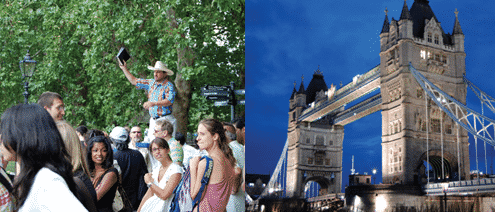 Why London?
In 1992, missionaries Dirk Wood and Steve Same were very involved in the works of Arise & Shine Evangelistic Association Philippines. Bible schools, church planting, evangelism, crusades and a Christian grade school were on-going. But it was in the midst of this activity that God spoke to Dirk. He said, "You will go to London and preach the Gospel to the nations gathered there." To Dirk, it was like the call to Macedonia that Paul received. He didn't know at the time that the book OPERATION WORLD had listed a prayer request for England saying, "Pray for more effective outreach…pray that…leaders with vision may lead the churches into action, wrest victory from the jaws of defeat and make an impact on the nation." Steve Same soon felt the same call to go and the Wood and Same families left the ministry in the Philippines and moved to London, England in June of 1993.
Establishing a ministry in London did not prove easy. Most of the established churches rejected their offers of assistance. The two ministers decided to follow the footsteps of William Booth, George Whitefield and John Wesley. They took the Good News of Jesus Christ to the streets, the pubs, the markets, the buses and the trains. They got much the same results as the earlier reformers did. They were jailed, spit on, threatened, beat up, pushed around, mocked, had food thrown at them, etc. In the midst of the persecution, they have seen God move tremendously! People, including mockers, have been born-again. The Gospel message has been proclaimed through newspaper articles and television broadcasts on their ministry.
The purchase of a pub building was a major milestone in the ministry in London. The two families had thus far shared a two and one-half bedroom house, which put limits on all they could do. With the large facility, there is space for Bible studies, prayer meetings, outreach to the community, help for those in need, etc. ASEA now houses its Distance Bible School Program in London. Churches are encouraged to send teams to London to learn church history, evangelism and be a part of fulfilling the Great Commission in this great city. London is 70% foreigners from all over the world. It is cross-cultural evangelism at its best! OPERATION WORLD states:
England's inner cities are in threat of becoming physical and spiritual wastelands, riddled with drugs and crime. Dying congregations, closed churches and churches converted into Muslim mosques, Hindu temples or Sikh gurdwaras are commonplace. Most white evangelicals moved to comfortable, middle-class suburbs and towns a generation ago. Whites trapped in inner-city poverty and joblessness usually have fewer prospects than even their ethnic-minority neighbours. Pray that God may raise up an army of workers with effective ways of meeting the many needs of these impoverished and often troubled areas.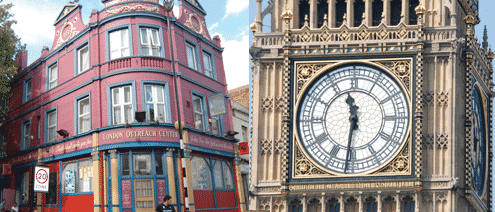 Why a Pub?
One night after a particularly hard night of persecution, Dirk heard God speak again. This time He said that He was going to give ASEA a building in central London. It seemed like an impossible task. The cost of real estate in London is staggering. Another pastor friend told Dirk and Steve that pubs were going out of business and being sold for good prices. After several months of looking around, The Crystal Tavern was found. It is located about two miles from the famous Tower of London and Tower Bridge. Its three stories included five very much needed bedrooms and an office. It seemed ideal. There would be plenty of space to make accommodations for visitors, too. An offer on the building was accepted! Dirk and Steve were told that 10% would be needed for a down-payment. This was a tremendous challenge since they had no money! Then the bank raised the required down-payment to 20%. Was this possible? Yes, God is able! Donations were made to cover half the purchase price. A Christian organization financed the remainder. More funds were donated over the next two years to renovate the building.
It was a working pub the day before ASEA moved it. The area was strongly opposed to losing their pub and gaining a mission, but God brought it to pass and God has a plan and a purpose!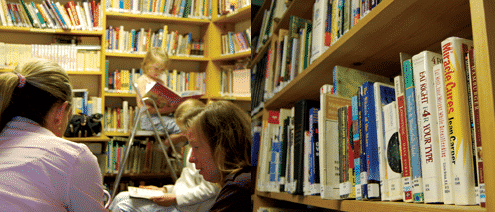 Homeschool Resource Library
The London Outreach Centre Home School Resource Library began in January of 1997. Our goal is to assist families in their home-schooling efforts. We currently have over 4000 books for your use, including reference materials, reading books, and various curricula. Since its opening, many families have taken advantage of the library and found it very helpful in schooling their children.
All of the books have been donated to Arise & Shine Evangelistic Association and we are continually receiving new materials to choose from. The shelves are full, and our desire is to get the books off the shelves and into the hands of the home-schooling families. If you are a home-schooling family anywhere near London, we would love to help you find just the right school materials to meet your child's individual needs!
The Home School Resource Library operates on a membership basis. If you are interested in taking advantage of the resources that we have available, you may become a member which gives you full access to library resources. There is an initial donation of £10.00 requested to help to cover the cost of running the library, and a yearly donation of £5.00.
The staff of the Home School Library is always trying to think of new ways to make our resources accessible to more people. If there is any way that we can help you, we would love to hear from you.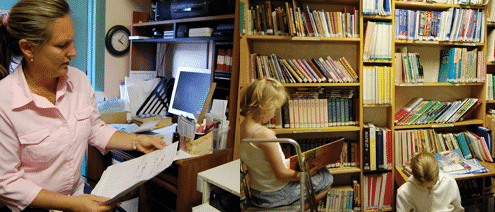 Library Resources Available to Our Members:
Christian Reading Books for Children
Beginner Readers, Biography Series, Classics,
Historical Fiction, and True-Life Stories
Parent and Teacher Help Books
Charlotte Mason's Six Volume Reference Series and Many More
Home School Curricula
A Beka; Bob Jones; Rod and Staff; Alpha Omega; Five-in-a-Row, and Unit Studies
Resource Materials
Encyclopaedias, Non-fiction Selection, Handbooks and Fact Books
Library Rules
Each family may check out unlimited reading books.
Four Month Check Out period on Reading Books.
There is no set limit on Curriculum items that you check out. Your needs will be considered on an individual basis.
Four Month Check Out period on Curriculum Materials
Writing in any book is prohibited.
Curriculum materials must be used under adult supervision.
Reference Books are for In-Library use only.
If for some reason you are unable to return the books within the given Check Out period, you are obligated to call for an extension.
All books that have been checked out may be renewed once via telephone.