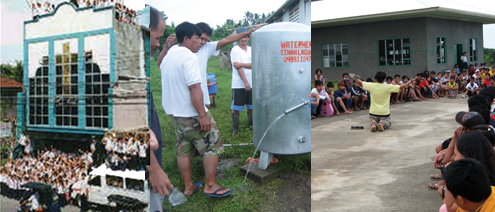 ASEA began in the Philippines in 1987.
Evangelism
Since the year of its formation, it has been the goal of ASEA to teach the Filipino Nationals to evangelize their own nation through public sharing of the Good News of Jesus Christ. It was in those early years that Dirk had his newly trained "evangelists" dress in pants with JESUS IS LORD down the side. He told them if they ever found themselves not knowing what to say, just look down at their pants and proclaim, "JESUS IS LORD!" Since those early days, Filipino men, women, and children had taken up the calling to proclaim the Gospel in their country.
Arise & Shine Schools Of Bibliology And Theological Seminary
Thousands have completed the ASSB course, and it has changed their Christian lives. This program is made available to the local churches. The foundation for this program is found in the first course — "The Importance of God's Word." The Seminary provides even further education for those desiring it.
Student Sponsorship
In 1995, ASEA began a Sponsorship Program whereby individuals, groups or churches can support the educational fees of a Filipino child. The suggested donation is $40 per month and will go a long way to help a student achieve a quality education. Students are waiting to be sponsored! You can really make a difference in one child's life through this program. Hundreds of students have been sponsored all the way through a college degree.
Read more about the SEED Program