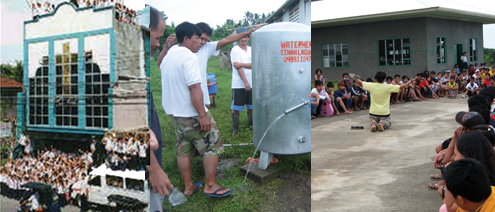 ASEA began in the Philippines in 1987.
Evangelism
Since the year of it's formation, it has been the goal of ASEA to teach the Filipino Nationals to evangelize their own nation through public sharing of the Good News of Jesus Christ. It was in those early years that Dirk had his newly trained "evangelists" dress in pants with JESUS IS LORD down the side. He told them if they ever found themselves not knowing what to say, just look down at their pants and proclaim, "JESUS IS LORD!" Since those early days, Filipino men, women and children had taken up the calling to proclaim the Gospel in their country.
Arise & Shine Schools Of Bibliology And Theological Seminary
Thousands have completed the ASSB course and it has changed their Christian lives. This program is made available to the local churches. The foundation for this program is found in the first course — "The Importance of God's Word." The Seminary provides even further education for those desiring it.
Christian School
Since 1987, ASEA has operated a Christian School at very low costs to the students because most of them are from needy families. However, even with the low costs, many are unable to pay. In 1995, we began a Sponsorship Program whereby individuals, groups or churches can pay the necessary costs for one child. The cost per child is $40.00 per month. This donation will cover all curriculum, school uniforms, a daily meal allowance, plus any needed medical or dental care through our clinic. Students are waiting to be sponsored! You can really make a difference in one child's life through this program. Our school has produced quality students and now offers much-needed computer training. We can use your old computers, too!
Read more about the SEED Program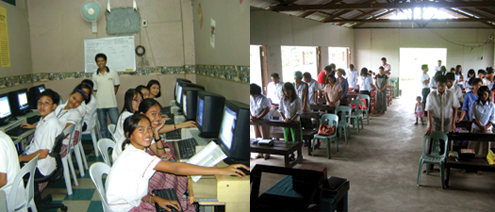 Medical Clinic And Outreaches
ASEA operates a totally free medical clinic for those in the poorest communities in the area. Each patient is ministered to, physically and spiritually. Trained Filipino health workers operate the clinic. Outreach clinics are also held along with evangelistic crusades. During one of these clinics into very poor areas, about 50 patients are seen at a cost of around $75.00 per clinic. These outreach clinics are held, as the funds are available. Sometimes we must help patients receive further care at larger medical facilities. ASEA covers these needs as much as possible.
Bible Club
In 1995, ASEA missionaries began a Bible Club for some of the poorest children in the area of our main base. Children gather on Saturday morning at the ASEA Building for Bible stories, puppet shows, fun and games, plus a meal. This ministry has experienced tremendous growth (close to 100 children attending) and is the highlight of the week for these children. Most of them live in shacks along the river or railroad tracks. Through the Bible Club they experience the love of Christ in their lives.
Feeding Programs
Our headquarters in Cabuyao, Laguna runs a ministry called Elijah's Pantry. This ministry provides groceries to local families who find themselves in a desperate state.